Oakland Firesafe Council

Working to reduce the risks of wildfire in the Oakland hills.
Broom Pull on Saturday, May 5, 9 am – 1 pm, Skyline Blvd. between Castle Drive and Chabot Space & Science Center
Volunteers are invited to pull broom and reduce fire risks on Skyline Blvd. between Castle Drive and Chabot Space & Science Center. Bring gloves, hat, sunscreen, wear study shoes, long pants and long sleeves. We'll provide tools and refreshments. Meet at Utility Yard across from Fire Station 24, 5921 Shepherd Canyon Road. Please RSVP to Carol Beck at cablife@aol.com  Co-sponsored by the Oakland Firesafe Council, Piedmont Pines Neighborhood Association, Friends of Sausal Creek and the City of Oakland Public Works Stewardship Division.
 Hearts & Prayers for California
This past year's wildfires in  Northern  and  Southern California are a reminder to Oakland residents to take steps now to get ready for fire.  Check out our pages and go to www.readyforwildfire.org.  Survivors of the 1991 Oakland Hills Firestorm provide advice to those in Northern California in an October 10, 2017 Press Democrat article   Oakland hills fire survivors' advice for Wine Country: 'You can't rush it'. 
Defensible Space Couldn't Keep Thomas Fire from Burning Ventura County
 For more coverage of Wine Country fires…
Park Like Someone's Life Depends on it
Whether high fire season or rainy winter,  first responders need to be able to respond to emergencies quickly.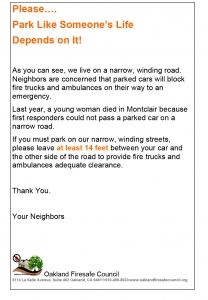 We remind residents who live on narrow streets to "Park Like Someone's Life Depends on it".  Use your garage or driveway. If you cannot, then park away from turns in the road and leave at least 14 feet so that first responders can pass.  http://www.eastbaytimes.com/2017/08/30/tempers-flare-over-oakland-hills-road-access-fire-danger-concerns/
Download a pdf of a handy flyer that neighbors can leave on the windshield of parked cars that do not provide sufficient clearance.  You can also call the Oakland Department of Transportation's Parking Enforcement Unit at 510 238-3099 for enforcement support.
Make Sure you Still Meet Defensible Space Requirements
You may have passed the Oakland inspection last June, but fires can occur at any time during the year. Protect your home from embers 365 days a year. Take a few minutes to walk around your property and make sure you still meet the defensible space requirements:
Status of  City of Oakland  Vegetation Management Plan to Reduce Wildfire Risk
The Oakland Fire Department manages vegetation on CITY-OWNED property in the Oakland hills to reduce the risk of devastating wildfires. Most of the Oakland the hills fall within the state's High or Very High Fire Hazard Severity Zones as designated by Cal-Fire. The Oakland Fire Department is developing a Vegetation Management Plan (Plan) and Environmental Impact Report (EIR) to address the more than 1,400 acres of CITY-OWNED property, and along approximately 300 miles of ROADS.
Public Meetings were held in March and again in June.. Check out the website for the latest documents, updates and meeting notices: www.oaklandnet.com/VegManagement.
Sign up to receive project updates by signing up on the website to receive project notifications by email.contact us/VegManagement.
Website:   www.oaklandnet.com/VegManagement
MAIL: 150 Frank Ogawa Plaza, Suite 3354, Oakland, CA 94612, ATTN: Oakland Vegetation Management Plan
Twitter or Facebook.

Educational Displays installed at Fire Resistant Demonstration Garden@Gateway Emergency Preparedness Exhibit Center
Over the past year, the Oakland Firesafe Council, the Oakland Landscape Committee, the North Hills Community Association and the Wildfire Prevention Assessment District (WPAD)  collaborated to install more than 3000 succulents and other drought-tolerant, fire resistant plants in a demonstration garden to showcase appropriate plants, mulch and space in accordance with the City of Oakland's defensible space requirements. We've just installed new educational panels as well. Please stop by to take a look. For details about the garden